Good presentation of campaigns motivates workers to perform your task. Adding images to your instruction encourages and sometimes make it easier for workers to clearly understand your job. These can be achieved using our TTV (Template Test & Verification) platform. Benefit more from the following advantages when you choose to submit your campaign under our TTV platform:
⇒ Template Creation
Complex campaigns such as Data Collection, Annotation, Transcription, Image Tagging, Categorization, Artificial Intelligence related campaigns and more can now be better presented through our template creation feature. Tutorials with images are now possible using templates. We have ready-to-use templates to choose from so that you will not start from scratch. You can customize these templates to suit your campaign requirements.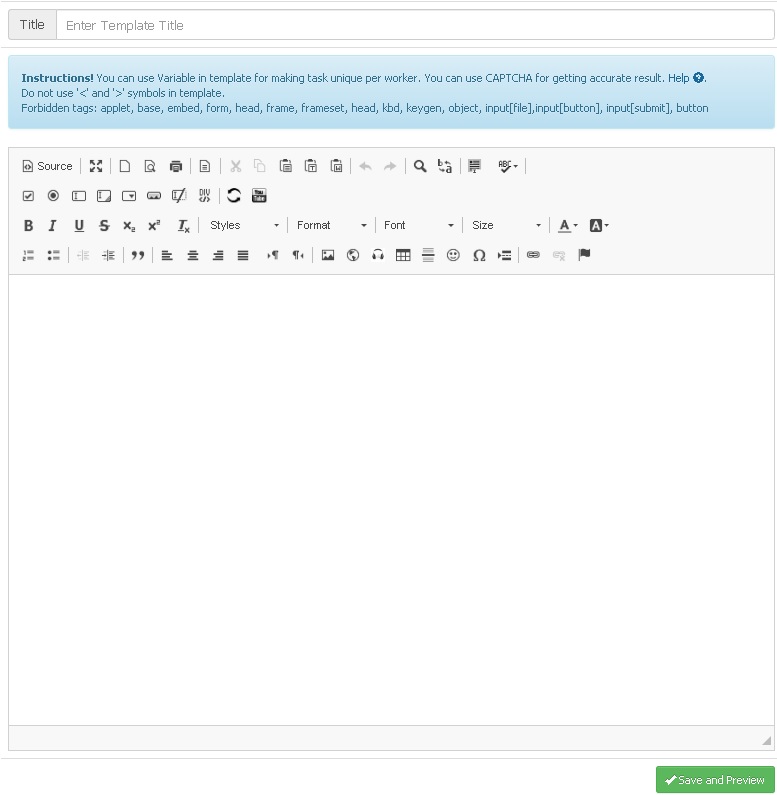 ⇒ External Template
External Template (ET) can be optionally utilized to achieve the most desired display of how your projects are to be shown to Workers than the provided layout in our default Templates.
An External Template appears to the Worker/s as a task in Microworkers-TTV whose question form is a web browser frame (iframe). The Worker's browser loads the contents of the iframe directly from a URL you provide when you create a campaign. And then the Worker submits results for your task using the form or template on your website. Finally, your form then submits this data back to Microworkers-TTV.
Create your campaign and host your questions from your own website through Microworkers-TTV External Campaign solution.
Please read our article to know more about External Template and how to apply it.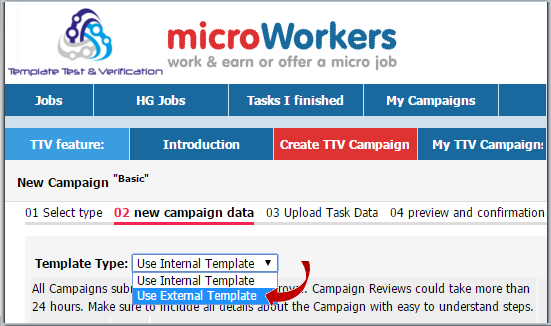 ⇒ Internal Spreadsheet Templates
Similar to Google's Spreadsheet approach, with our built-in Spreadsheet template solution and Unique Answers feature, you will have good control in the results obtained. Best for Data Collection campaigns. Just like any default templates, you can customize/edit instruction to your liking and requirements.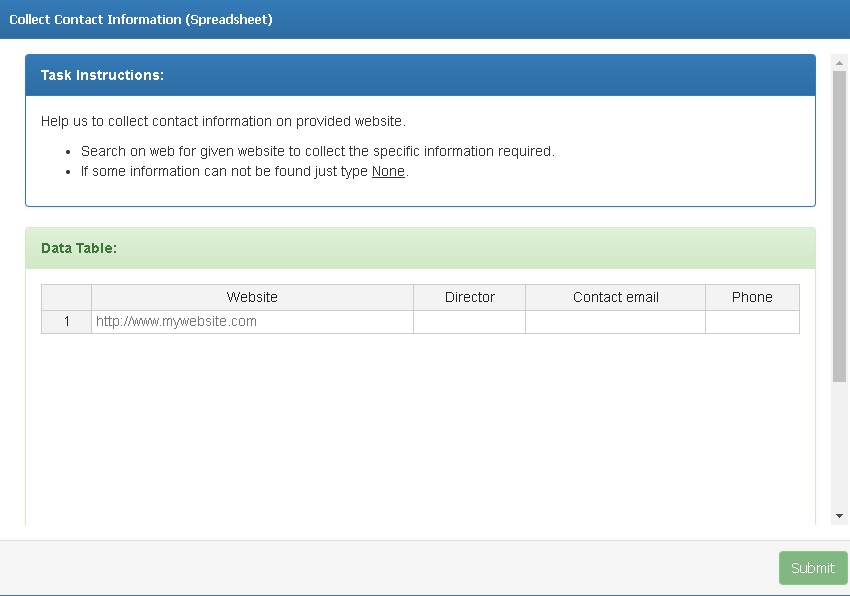 ⇒ Unique Answers
Preventing duplicate/similar answers can be obtained through our Unique Answers feature. It is only available in our TTV platform. So if you want different results from one question/task, TTV platform can meet your expectations with this feature.
⇒ Timer Lock
When a Worker starts working on the job, we lock one position to that Worker according to the number of minutes specified in the 'Create Campaign' page. Thus, the Worker must complete the task and submit proof before the job expires (allotted minutes run out). So if you have opened 200 positions, with Timer Lock feature, only 200 workers can work on your job at the same time. As a result, distribution of slots are being organized.
⇒ Auto-Refill of Positions
"Auto-refill" feature is the solution you need when you have no time to submit your campaign for restart so it will run continuously. A big advantage you can benefit from if you do not have enough time to regularly monitor your campaign/s!
More information about "Auto-refill" can be read here.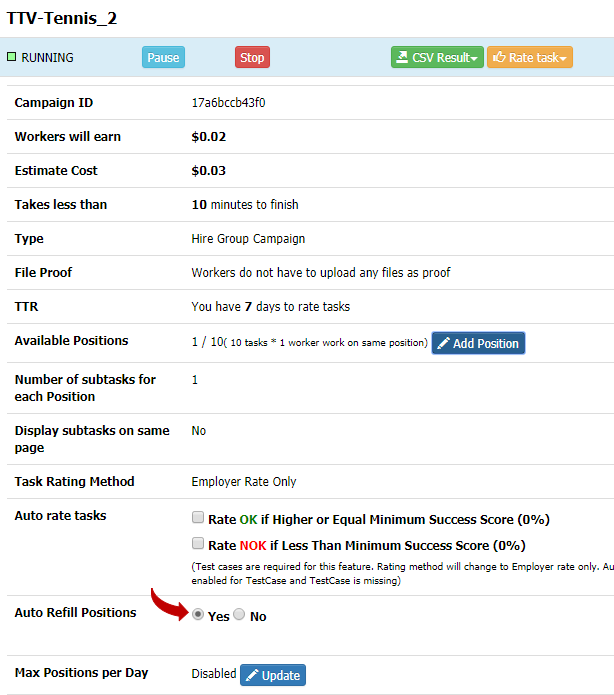 ⇒ Maximum Positions per Day
Allowing full control over participation in your campaigns can be fulfilled through our "Maximum Positions per Day" feature and this is manageable in our TTV platform. For instance, if you have a target job limit of 20 positions per day, once all 20 positions have been filled up, the system will automatically pause your campaign and resumes it after 24 hours for another 20 positions.
Know more about this feature in this blog article.

⇒ Multiple Workers in One Task
Distribution of one task to 2 or more workers to gather different answers and come up with the answers from the majority is attainable using this feature. In conclusion, if the majority from the workers answered "n", it is most likely that the correct answer is "n".
Visit this article for more information about this feature.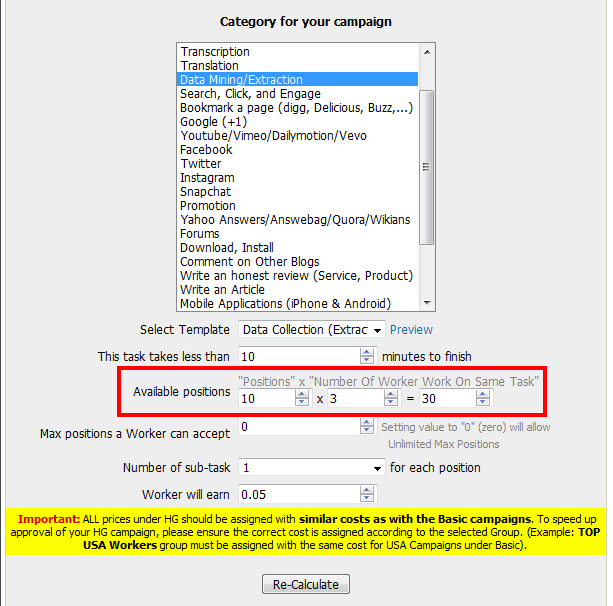 ⇒ VCode as Proof
Secure data better by generating VCode as proof to your campaign. Tasks/data submitted are not stored in Workers' accounts. When they submit their proof/s, Microworkers will only provide them a VCode. This way, they don't get to keep any information from their end. In addition, verification of task will only allow correct proofs from workers.
Information about VCode can be properly understood in this page.

⇒ Task Rating Options
Implementation of this Task Rating Method allows Employers to choose from the following options:
Admin Rate – Admins review and rate all submitted tasks. However, listed Admin Instruction should be clear.
Admin Review & Employer Rate – Proofs will be reviewed by admins and valid proofs will be sent to Employers' page and Employers will do the rating.
Employer Rate Only – Submitted proof undergo system review then  lands in the Employer's page. Employers rate the tasks.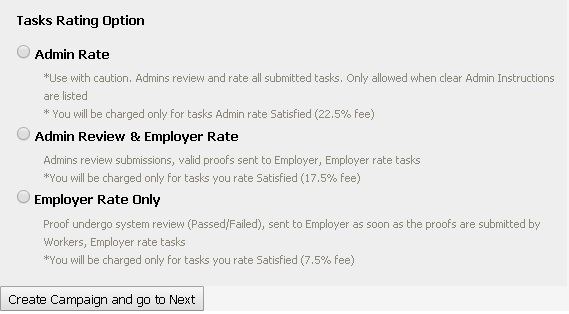 ⇒ Task Rating Templates
Rating tasks is now more convenient with this feature. In order to quickly rate tasks, it will allow you to list only the data you need to view without having to do a lot of scrolling or viewing the instructions provided to Workers, which you (Employer) no longer need to see.
For a better insight of the feature, please visit this blog.
⇒ Auto Rate Feature
This feature eases the rating job of Employers. We know how difficult it is to rate proofs especially if there are hundreds or thousands to be rated. Thus we came up to a rating solution where your time and effort is being saved.
Know more about these auto rating features from the following articles:
Added Feature in Auto Rate Tasks
More of the Importance of using our TTV platform will be posted in our next article so stay tuned 😉