Sequencing events is a fundamental task in various fields, from historical research to data analysis and even content creation. Whether you need to organize historical events, sort time-stamped data, or create a compelling narrative, sequencing events can be a labor-intensive process. Fortunately, Microworkers offers a cost-effective and efficient solution for such projects. In this article, we will explore how to leverage Microworkers for sequencing of events projects.
First, let us try to understand what sequencing of events is. Sequencing of events involves arranging a series of actions or occurrences in chronological order. It can be complex, especially when dealing with a large dataset. This task often demands meticulous attention to detail and expertise in the subject matter. This can be anything from arranging historical events in the correct order to organizing data for a scientific study or arranging steps in a process flow.
Challenges in Sequencing Projects:
Sequencing projects can be challenging for several reasons:
1. Volume of data
Often, there is a vast amount of data to be sorted through and organized.
2. Subjectivity
Sequencing might require some level of interpretation, which can introduce subjectivity and bias into the process.
3. Time Consuming
Manually sequencing events can be incredibly time-consuming, which is not always feasible for large projects.
How Microworkers Can Help:
Microworkers provides a flexible and scalable solution for sequencing events projects. Here's how you can leverage our platform:
➥

Microtasks:

In Microworkers, you can break down complex tasks into microtasks, making it easy for a distributed workforce to contribute. For sequencing events, you can divide the task into smaller components. For example, each worker can be assigned a set of events to arrange in chronological order. This division of labor speeds up the process.
➥
Global Workforce:
Microworkers connects you to a global workforce, giving you access to a diverse range of skills and backgrounds. This can be especially valuable for sequencing tasks that require domain-specific knowledge or language expertise. Take advantage of our "Qualification Test" feature to ensure that the participants have the necessary qualifications.
➥ 
Quality Control:
Microworkers offers tools for quality control. You can set guidelines and provide examples to workers to ensure they understand the task. Additionally, you can review the completed tasks and reject or request revisions if they do not meet your standards. Benefit from our "Revise" and/or "Chat" feature to communicate with the workers. This ensures the accuracy and quality of the results. Also, you can compare answers of workers to collect the best result. This can be achieved by using our "Multiple Workers In One Task" feature.
Case Study: Sequencing Historical Events
Let's take a look at a practical example. Imagine you're a historian working on a project to sequence a series of historical events for a new book. By using Microworkers, you can efficiently distribute the task to workers around the world. Each worker arranges a set of events, and you can easily aggregate the results into a coherent historical timeline. This approach not only saves you time but also benefits from the collective wisdom of a global workforce.
Creating Your Campaign
Campaign creation has never been this easy in Microworkers. Our ready-made templates are available for you to select and modify to match your campaign needs. Visit this video tutorial as your guide in customizing a default template. If however you have your own customized template, you can import it to our website and use it.
This default template can be used for your historical events sequencing campaign (click the photo for better viewing):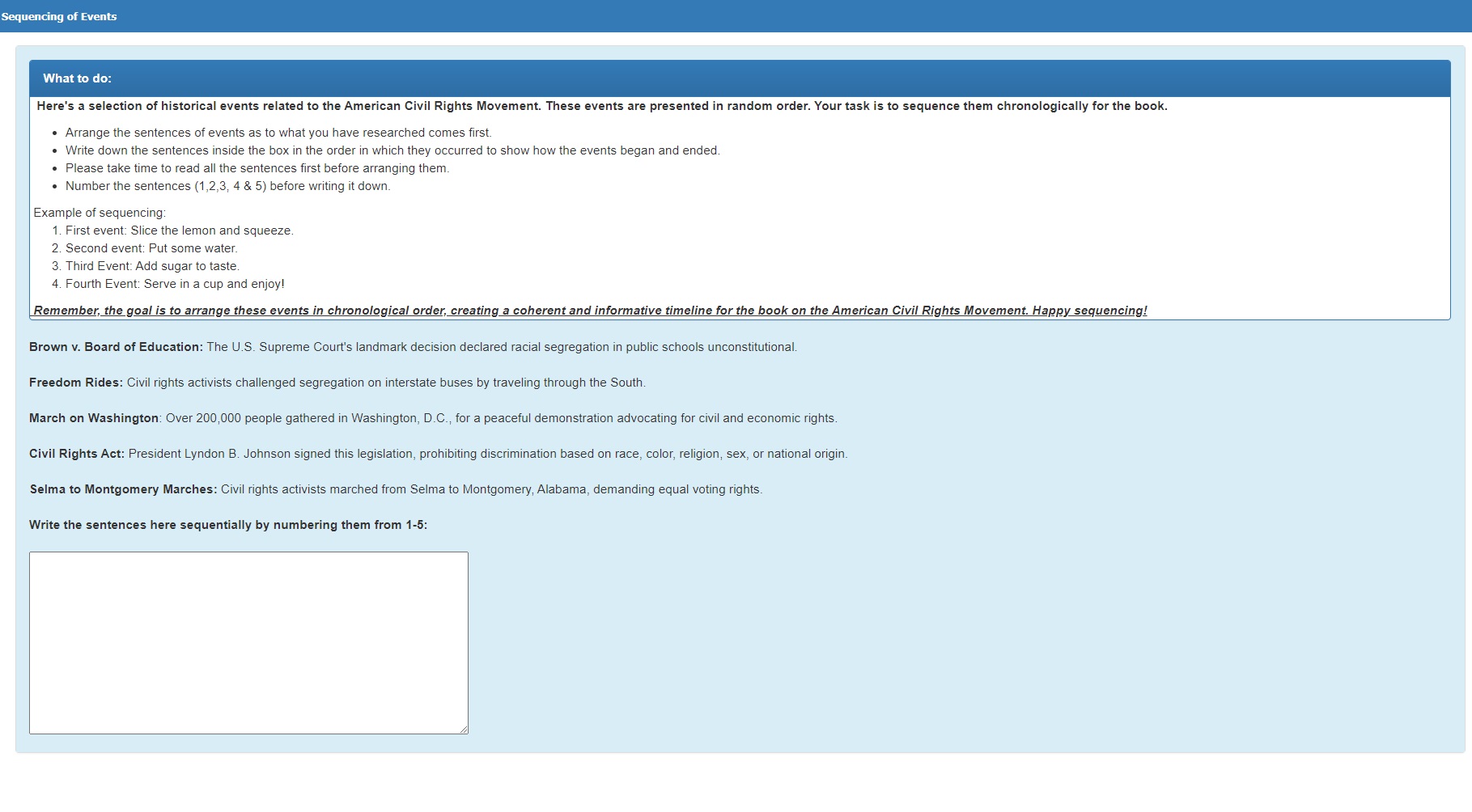 If you prefer sequencing of images, we also have a ready-template for you to customize (click the photo for better viewing):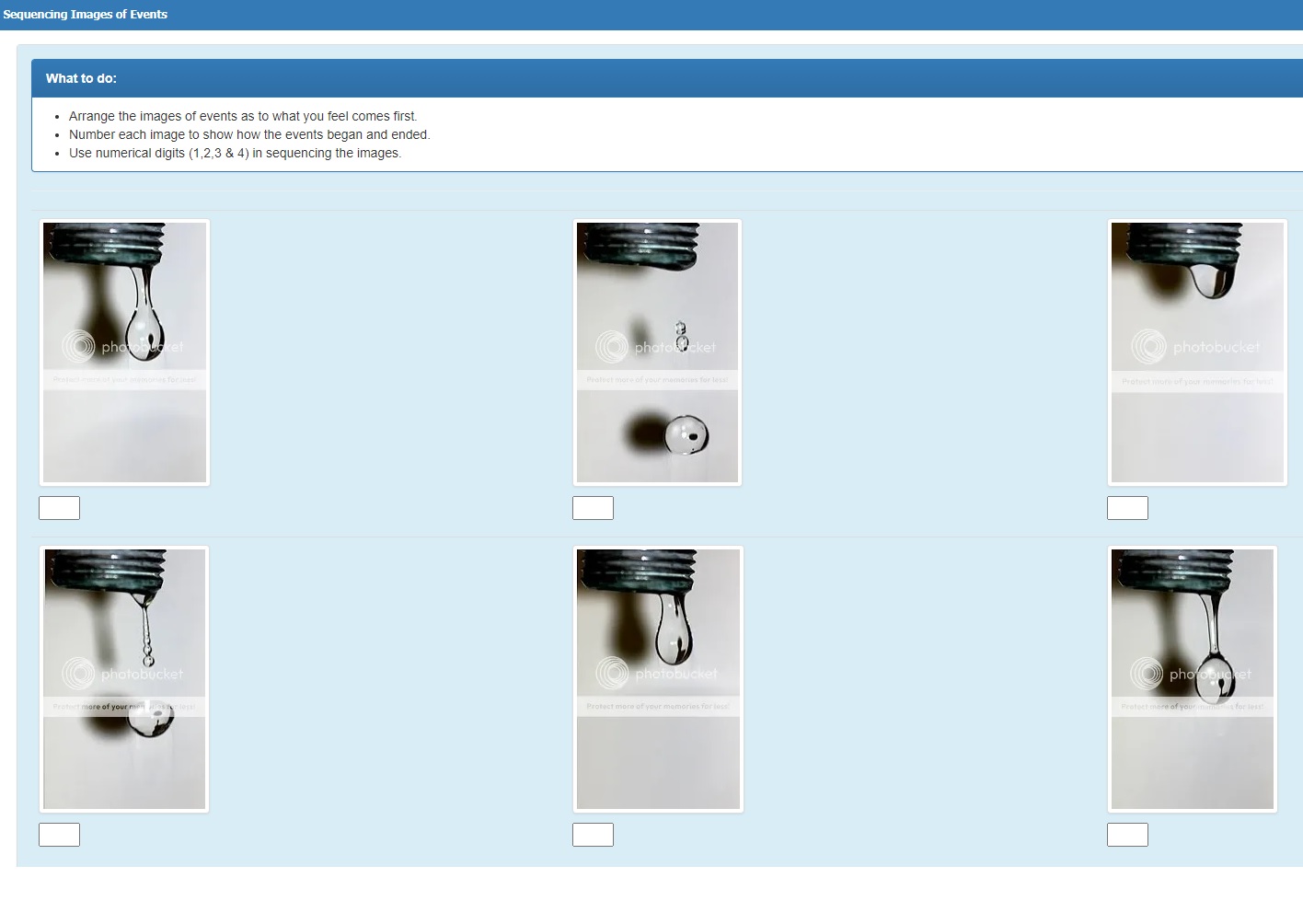 Once your template is ready, you can now proceed with creating your campaign. Make use of our helpful features for efficiently and accurately sequencing events projects, saving time and effort in the process:
➥
Utilizing a CSV file
Using a CSV file streamlines the process of distributing and assigning unique information to each workers. It's a powerful tool for managing complex sequencing tasks efficiently. To ensure that your CSV file is in conformity with our format, please refer to this article.
➥
 Multiple Workers in One Task
The most effective way to collect the best result is by comparing answers. So when majority answered "w, x, y, z", it is more likely that "w, x, y, z" is the correct answer. Execute this by using our "Multiple Workers In One Task" feature.
➥
 Qualification test
For more complex sequencing tasks, a qualification test can be tailored to assess a worker's ability to handle the specific challenges presented by the project. To ensure that workers assigned to the task have the necessary skills and knowledge to complete your task, you may create a "Qualification Test". Then you can run your campaign with the workers who passed the test.
➥
 Pre-defined Groups of Workers
No time to run a Qualification test? No worries, choose from the extensive list of our pre-defined groups of workers that are already available in our system. But of course, you can also create your own group and just put the Workers of your choosing. That way, you are only making your campaigns available to the Workers whom you trust can perform your task best.
➥
 Multiple Task Rating Options
Our system provides various ways in rating the submitted tasks. Select the most suitable task rating method according to your needs. What's more, you can also create your own "Task Rating template". It allows you to list only the data you need to view in order to quickly rate the tasks.
Harness the potential of Microworkers to streamline your sequencing projects. Leveraging Microworkers for sequencing events projects is a smart and efficient choice! 😉 Reach us here if you have additional concerns or inquiries 😊