Just recently, Microworkers have added a withdrawal option, now allowing Workers to withdraw earnings to their bank via Transpay (See related post). Along with this new payment system, activation of withdrawals via PIN has also been waived.
This means that when choosing Transpay in placing your first withdraw request, you will no longer be asked for a PIN in order to begin receiving your money.
***To be eligible for PIN waiver, make sure your Transpay name and address matches your Microworkers details.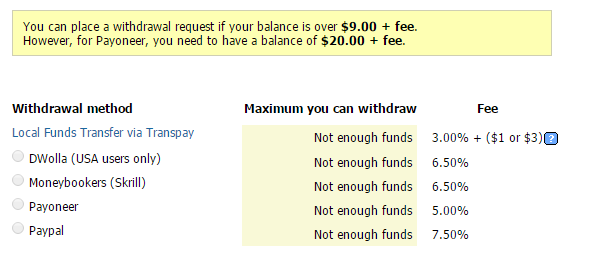 Note of the fees involved below:
⇒ For Non-USD transfer: Transpay Withdrawal Fee of $1.00 + 3% Microworkers fee
⇒ For USD transfer: Transpay Withdrawal Fee of $3.00 + 3% Microworkers fee
So with a $10.00 withdrawal amount, you will be charged with $1.00 (Transpay Withdrawal Fee – Non USD transfer) + $0.30 (MW Fee).
 ____________________________________________________
Microworkers have also made available Payoneer as an additional payment option. Just like Transpay, PIN requirement is waived when using Payoneer during your first withdrawal. (See related Post)
The same will also be implemented with Dwolla soon. A separate announcement will be placed once rolled in, and removal of PIN requirement for Dwolla is applied.
 ____________________________________________________
PIN is among Microworkers' important measures in ensuring its Workers' identities and maintaining genuine Workers in the platform (See related post), and is still implemented when choosing other payment options upon withdrawal (Dwolla – for US Workers, Skrill, Paypal).
Payments are still processed twice a week (Wednesday and Sunday).
 ____________________________________________________

More information on Withdrawals can be read in the following articles:
Withdrawal via Bank – Transpay