Good news! We have just enabled "Local Funds Transfer via Transpay" as an added withdrawal option wherein payments will be credited directly to your chosen local bank! So, for those who want to get paid through their banks or are having difficulties using our current payment options (Paypal, Skrill, Dwolla), this withdrawal option is the best to choose!
Transpay will remit funds to your local banks. This is the best payout solution we have chosen so our Workers can experience an easy way of receiving direct-to-bank cashouts. Moreover, you have the option to choose whether to receive the funds in dollars or in your local currency.
With this payment method, for every withdrawal request, the following fess are being charged:
⇒ For Non-USD transfer – Transpay Withdrawal Fee of $1.00 + 3% Microworkers fee
⇒ For USD transfer – Transpay Withdrawal Fee of $3.00 + 3% Microworkers fee
So with a $10.00 withdrawal amount, you will be charged with $1.00 (Transpay Withdrawal Fee – Non USD transfer) + $0.30 (MW Fee).
---
How to get paid using Local Funds Transfer via Transpay option:
Since we will be sending out the payment to your bank via Transpay, you are required to fill up a form and enter genuine information so the transfer can go through smoothly. You will be able to see the form once you have chosen and clicked "Local Funds Transfer via Transpay" withdrawal method in the Withdraw page.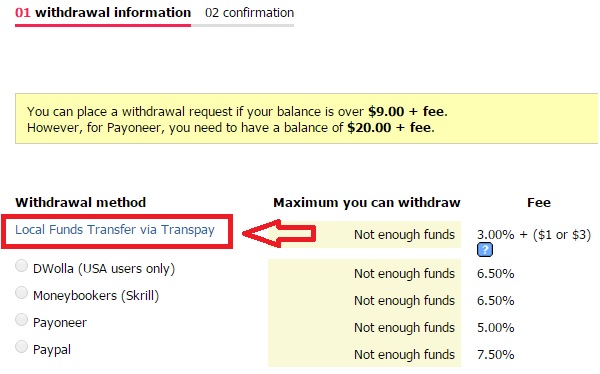 The form is quite long but upon your second request, some fields will have an "auto-complete fields".

Enter required details, most importantly, the fields that are mandatory (*). You may leave some fields blank which are not applicable e.g. Second Name, Second Last Name, Work Phone, etc. Please be very cautious in writing/entering your bank account number. Spaces in between numbers should be eliminated. Bank Routing Number is also a mandatory field. You may look or search online or better yet, login to your online banking account and look for your bank's routing number.
As for every withdrawal request, you need to enter the Verification PIN that is sent to your email address and/or registered mobile phone. This is an added security feature to protect account holders from any fraud activities.

Once you are done filling up the form, click the "Next" button. If you have done it correctly, next page will be seen having the confirmation that you have successfully requested for a withdrawal.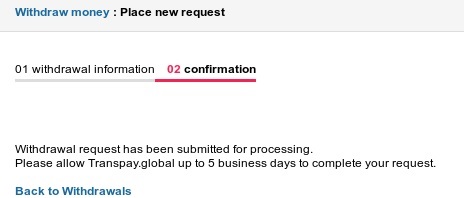 Requested withdrawal amount may be credited to your local bank within 2-5 business days.
Local Funds Transfer via Transpay withdrawal method is available to the following countries:
(Updated as of November 2019)
Argentina
Austria
Bangladesh 
Bulgaria
Canada
Columbia
Ecuador
Egypt
France
Germany
Ghana
Greece
Hungary
Iceland
India
Indonesia
Italy
Kenya
Malaysia
Mexico
Morocco
Nepal
Netherlands
Philippines
Portugal
Romania

Turkey

United Kingdom
United States
Vietnam
More information about Withdrawals and PIN can be read in this article.