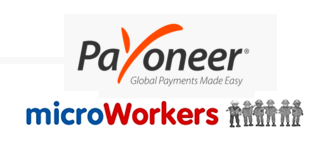 Another good news!
We have recently enabled "Payoneer" as an added withdrawal option wherein payments will be credited via two methods of payments:
☞ Payoneer Account
☞ Prepaid Card
_________________________________________________________
PIN Waived for Payoneer Withdrawals
If you are experiencing issues using our current available payment options (Paypal, Skrill, Dwolla, Bank via Transpay), you may opt for this withdrawal option! *** A minimum balance of $20 (plus fees) is required in order to withdraw using this payment method.
What's more, with Payoneer, you don't have to perform PIN verification as with other payment methods.
*To be eligible for PIN waiver, make sure your Payoneer name and address matches your Microworkers details.

*Note that Transpay also waives PIN for withdrawals, see Related post here.
You may however need to add Microworkers as a Payment Source, which is a pretty straightforward and quick process (takes less than a minute):
Select Payoneer option:


Choose your Payoneer Withdrawal method, then receive confirmation from Payoneer on the Added Payment Source (Microworkers):

You will then be able to see Payoneer in your available Withdrawal options and proceed with your withdrawal request: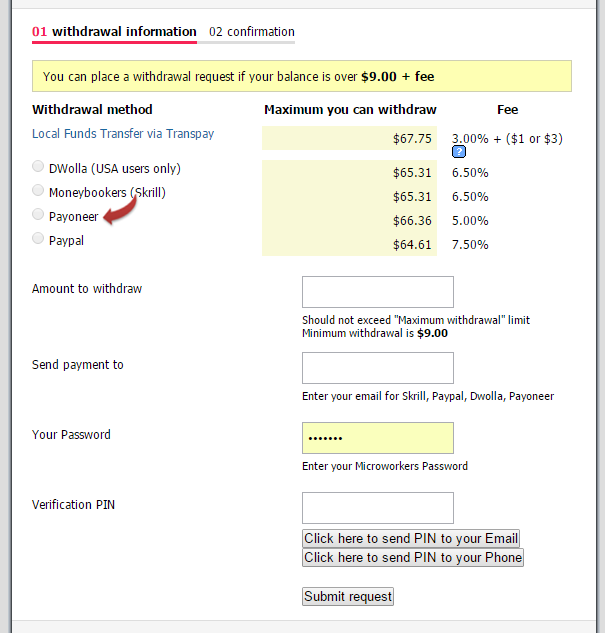 Versus Dwolla, Skrill and Paypal, Payoneer charges a lower fee of 5.00%
As for every withdrawal request, you need to enter the Verification PIN that is sent to your email address and/or registered mobile phone. This is an added security feature to protect account holders from any fraud activities.
Once you are done filling up the form, click the "Next" button. If you have done it correctly, next page will be seen having the confirmation that you have successfully requested for a withdrawal.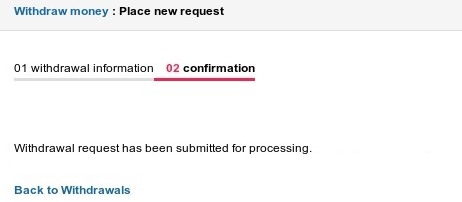 _______________________________________________________

Withdrawing to your Payoneer Account is available to the following countries:
☞ ARGENTINA
☞ AUSTRIA
☞ BANGLADESH
☞ BELGIUM
☞ BOSNIA AND HERZEGOVINA
☞ BRAZIL
☞ BULGARIA
☞ CANADA
☞ CHILE
☞ CHINA
☞ COSTA RICA
☞ CROATIA
☞ CYPRUS
☞ CZECH REPUBLIC
☞ DENMARK
☞ EGYPT
☞ ESTONIA
☞ FAROE ISLANDS
☞ FINLAND
☞ FRANCE
☞ GERMANY
☞ GREECE
☞ GREENLAND
☞ GUERNSEY
☞ HONG KONG
☞ HUNGARY
☞ INDIA
☞ INDONESIA
☞ IRELAND
☞ ISRAEL
☞ ITALY
☞ JAMAICA
☞ JAPAN
☞ LATVIA
☞ LIECHTENSTEIN
☞ LITHUANIA
☞ LUXEMBOURG
☞ MALAYSIA
☞ MALTA
☞ MAYOTTE
☞ MONACO
☞ MOROCCO
☞ NETHERLANDS
☞ NIGERIA
☞ NORWAY
☞ PAKISTAN
☞ PERU
☞ PHILIPPINES
☞ POLAND
☞ PORTUGAL
☞ REUNION
☞ ROMANIA
☞ RUSSIAN FEDERATION
☞ SAINT PIERRE AND MIQUELON
☞ SAN MARINO
☞ SINGAPORE
☞ SLOVAKIA
☞ SLOVENIA
☞ SOUTH KOREA
☞ SPAIN
☞ SRI LANKA
☞ SWEDEN
☞ SWITZERLAND
☞ THAILAND
☞ TURKEY
☞ UKRAINE
☞ UNITED KINGDOM
☞ UNITED STATES
☞ VIETNAM
In case your country is not listed above (for Payoneer Account withdrawal), you may withdraw via Payoneer Prepaid card since this payment option has further reach (over 200 countries except for OFAC countries. *Prepaid Card cannot also be available for India due to some regulations).
_________________________________________________________
See related posts on withdrawal here:
https://www.microworkers.com/blog/whats-new-in-mw-pin-requirement-waived-for-transpay/
https://www.microworkers.com/blog/mws-added-withdrawal-option/