So you have finally earned enough money to request a cash out. Now you're asking, "how do I get my money?"
Before you decide how you wish to take your Microworkers earnings, make sure you are aware of these several must-knows:

Minimum Withdrawal, Fees
The minimum amount required to submit a withdrawal request is $9.00 plus fees, depending on your payment option (6,5% Skrill/DWolla and 7,5% Paypal).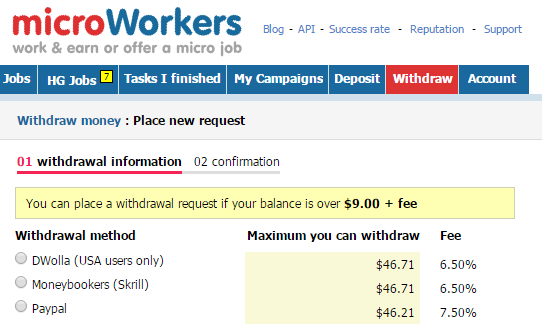 The Microworkers PIN
Everyone needs a PIN in order to activate one's withdrawals. Your PIN is mailed to your home/mailing address after placing your first withdrawal request. This is an automated process. Whilst not many are very happy about this process, it is Microworkers' way of ensuring its Workers' identities and maintain genuine Workers in the platform. Note that the very reason why PIN is mailed to one's mailing address is to ensure that all Workers are verified and multiple accounts are prevented.
Once the PIN is mailed, such status will be displayed in your account and a link will appear on your page where you may enter your PIN once it is received.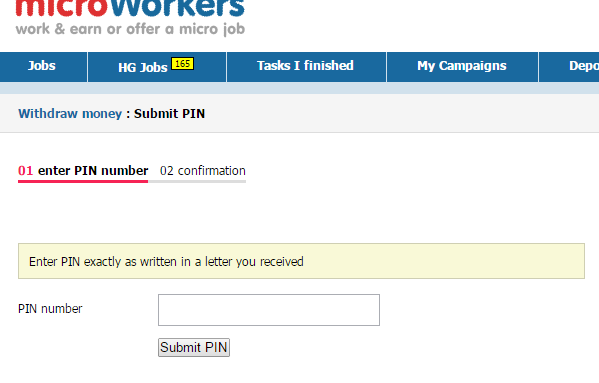 After such is completed, your withdrawals will be activated.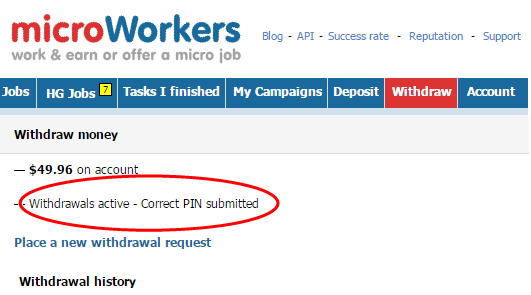 Note that this  process is only performed for the first withdrawal request and will no longer be repeated once your withdrawals are activated.
As PIN delivery can take between 1-4 weeks (depending on your mailing service and location), you have to make sure you have entered your correct mailing address before placing your withdrawal request. This option can be updated form your accounts page. If you have previously updated your address and would want to add changes on this section, you may open a Support ticket and request that your address field be reset.
An option to request a new PIN for a $2 fee is available if such is not received.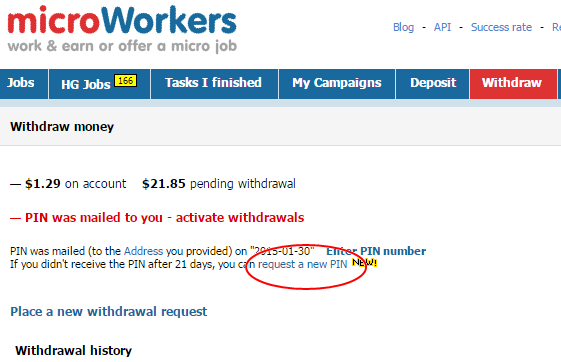 The Withdrawal PIN
So all is great, and you have activated your withdrawals. Succeeding earnings will no longer require the PIN sent to your home address. Instead, a PIN is mailed to your Login email address upon withdrawal request.
This is a newly added security measure to ensure the request is made by the genuine account holder.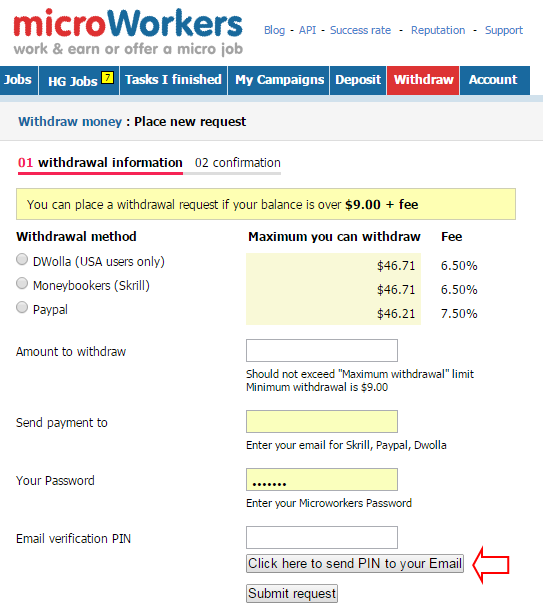 Please check your email to obtain the withdrawal PIN and complete your request.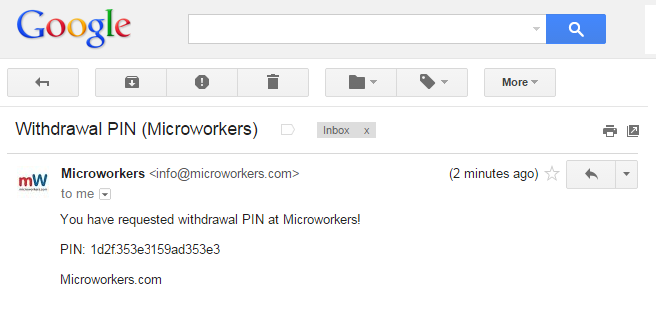 Payment Schedule
Microworkers send out payments twice a week (Sunday and Wednesday).
The following pages contain additional information on Microworkers PIN:
MICROWORKERS FAQ
FAQ-GUIDELINES
Got more questions on withdrawals and PINs, send a Support Ticket.