We're very excited to bring your attention to that we've just launched Microworkers'
Data Services
Qualification test!
As you may already know,
Data Collection
HG group is one of the most popular groups among the Employers for their specialized data-related projects. We've now put a lot of effort in putting together a good and representative test that will give you a chance to join this popular group.
---
To be eligible to undergo Data Services Qualification test, you should meet the criterion below:
100+ Satisfied (Basic) tasks
Maintaining success ratio of at least
Check your performance here: Reputation



At this point of time, aforementioned success rate in Basic tasks can only be calculated manually. Please note that it may take up to 24 hours for our scripts to make your User ID qualified

You can access the test directly from this link: MW: Data Services Qualification Test
(provided that you meet the above criteria)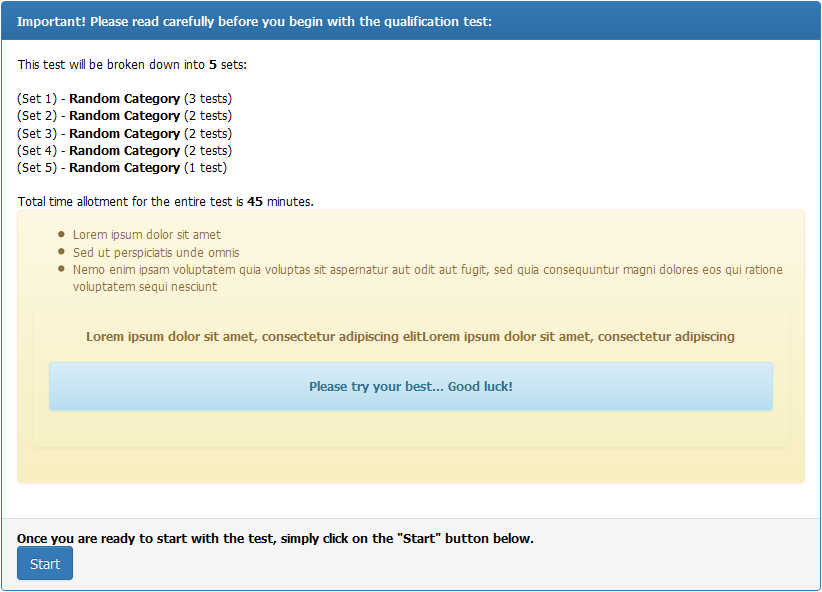 ---
The rest of the information concerning the test can be read straight from task description.

Test is Optional and it won't affect your Worker's status nor ability to perform tasks

Once you pass the test and have been added to Data Services group, the system will start doing a regular daily checking on your ID to ensure your Success Rate doesn't go below 98% in performing tasks reserved for Data Services group. If however, your Success Rate drops down below this rate, you are going to be removed from the group permanently, without a chance of getting back again. Please try your best!
---
What are the benefits of Data Services Qualification test?
---
Employers
__________
☞
Data Services
group pre-tested and readily available for your Specialized jobs
☞ High Quality work force capable of dealing with more elaborate projects
Workers
________
Passing the Data Services Qualification Test will:
☞ Include your ID into
Data Services
HG group (now former
Data Collection
)
☞ Earn you a Data Services Badge
☞ Enable you to accept wide range of better paid Jobs
---

"Doing well in exams are the only shortcut to success."

Good luck and stay tuned! 😉




You might also be interested in these blog articles:

What's New in MW: Microworkers-Hosted Qualification Exams
Microworkers Things-To-Know: Qualification Tests
TTV Tutorial: Setting up Template with Accordion
Auto Rate Tasks Feature