In order to maintain the quality of jobs in Microworkers, it is mandatory for our workers to take on our Qualification/Admission test. Once they passed this test, they will be able to do jobs in MW. If failed, they are given the chance to take another test, the English Proficiency test. If the worker did not pass the second test, he/she can no longer take on jobs.
However, not all workers are proficient in English but are exceptionally good in other languages/skills. With our new feature, the "QT Optional", workers who failed the Qualification as well as the English Proficiency test but are considerably good in other skills/languages and/or notably good in their local language are now eligible to take on special jobs ran by Employers. This feature is available under our TTV and standard platform, Basic and Hire Group section. This is positively beneficial to both Employers and Workers!
For Employers who run campaigns needing specific skills from workers such as good skills in writing and/or translating words in French, Chinese, Spanish or Japanese, QT Optional feature can help them populate their campaign timely.
To activate this feature, upon campaign creation, you need to tick the checkbox for "QT Optional" field. Note that you can toggle this feature anytime you desire regardless of the status of your campaign. By default, this is unchecked.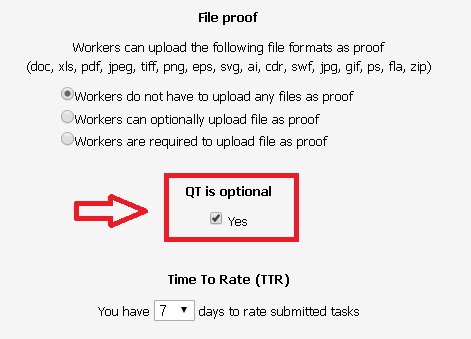 Once this is checked, your campaign will be visible to all workers who passed or failed Qualification/Admission and English Proficiency test targeted in your chosen zone. This feature is favorable to campaigns with Geo-target to countries such as Spain, China, Germany, Japan, etc.
If you wish to switch off this feature, you can do so anytime even if your campaign is activated, paused or stopped. For campaigns submitted under our TTV platform, you need to uncheck the checkbox for QT Required. This means your campaign will only be open to workers who passed Qualification test: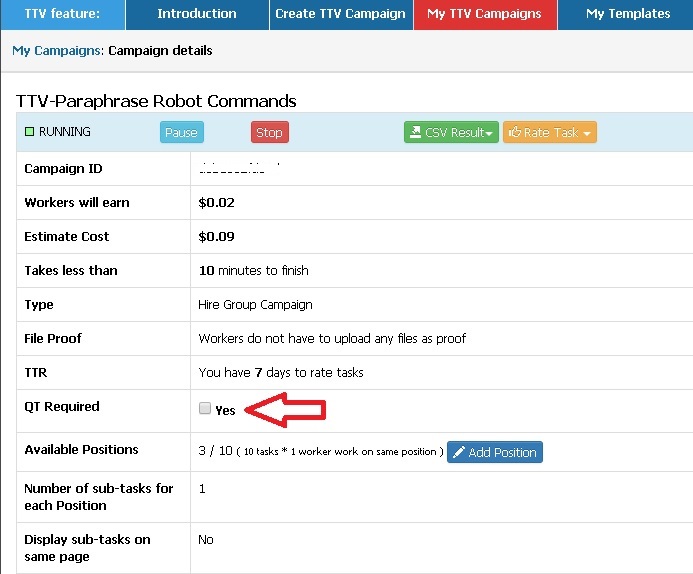 Once done, a pop-up message will appear acknowledging your modification:

Under our standard platform, utilize the "toggle" link in the individual campaign page:

We are still working on more features to give you the quality and service you all deserve so stay updated 😉
Related Articles You Might Be Interested To Read:
Microworkers Things-To-Know: Qualification Tests
What's New in MW: Microworkers-Hosted Qualification Exams