As we aim to provide you with the best and quality service, we have implemented the "Auto Recharge" feature so your campaigns will continue to run smoothly and prevent any service interruption due to low funds. This feature guarantees that your account remains funded at all times.
Understanding Auto Recharge feature:
Auto Recharge is a convenient feature where the system will automatically charge your preferred payment source and add funds to your account. In this feature, you have full control over the following:
Enable or disable it anytime you prefer
Have the option to choose if you only wanted to be notified when you run low on funds/credits
Set the amount that will trigger the automatic charge
Set the amount to be charged/added
Select the daily limit amount to be charged
Nominate the primary and backup payment source to be used for automatic charge
Why Use Auto Recharge feature?
To ensure that your campaigns run smoothly, this feature is a very big advantage! Why? Here are some of the major reasons:
⇒ Consistency and convenience: Running low on credits and unaware of it but you have a campaign to launch? This feature saves your day! By setting up auto-recharge payments, you can ensure that your account is always funded, which can help maintain consistency in running your campaigns.
⇒ Time saving: Less time and effort since you no longer have to manually make a deposit whenever needed. Surely, it will save your day job by automating the payment process.
⇒ Prevents service interruption: Auto recharge can avoid service disruptions due to insufficient funds. As a result, your campaigns will remain operational and productive.
⇒ Peace of mind: Ensures that you will always have sufficient funds for your campaigns.
How Can I Configure Auto Recharge feature?
Configuring Auto Recharge is very simple. Simply go to the "Deposit" page then click the "Configure" link.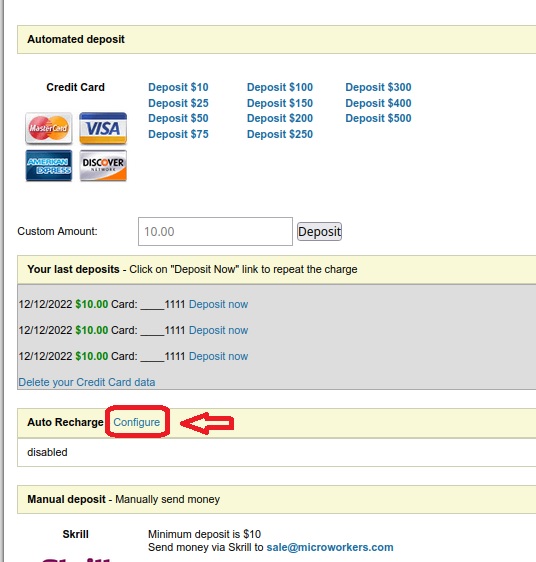 Next, ticking the box for "Auto-recharged enabled" will show the form for you to fill up. You will have the option to choose whether to enable the "Auto-recharged enabled" or "Notify only" each time you have a low balance in your account. Enter your preferences and password then hit "Submit".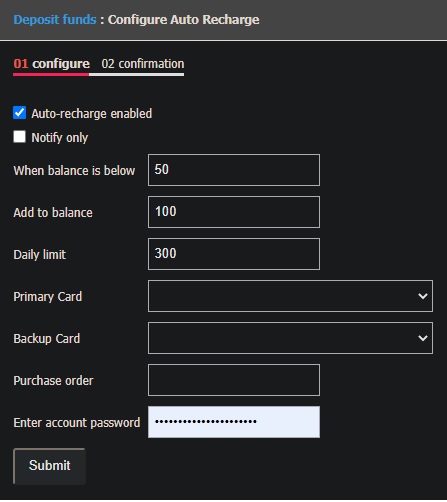 → Enabling "Notify only" option:
This option bypasses the automatic charging in your payment source. By the word itself, this option will only send an email notification alerting you that you are already running low on funds. Fill the form by entering the value at which you want to be notified. Allowed value for the low balance funds ranges from ten dollars ($10.00) to five thousand dollars ($5,000.00).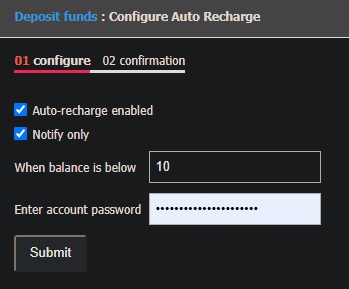 For this setting, you will see this message in the "Deposit" page and receive the notification alert in your email.

→ Enabling  "Auto-recharged enabled" option:
Under this option, a form will be displayed to be filled out by you. Fill in the desired amount. Values for "Daily limit" should exceed the values for "Add to balance". Nominate your primary card.
As you can see, you also have the option to use a backup card. Having a backup payment is helpful. This ensures automatic charging if your primary card fails due to some reasons or gets declined.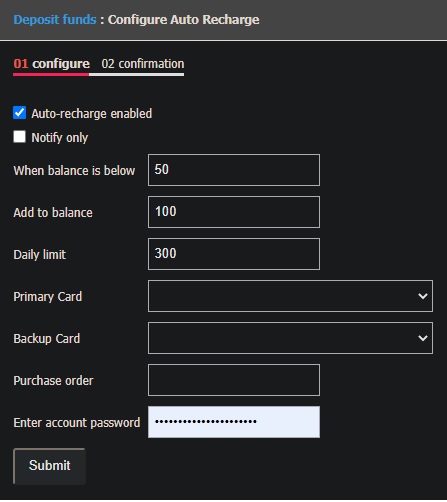 Once done, you will receive a confirmation message in the "Deposit" page. For every successful and failed deposits, you will also receive a message via your email address.
Important Tips:
⇒ Make sure your primary and backup cards are still valid and have sufficient funds.
⇒ Keep your card information and billing address up-to-date to avoid any payment problems.
Important Notes:
⇒ Auto recharge works with credit cards only as payment source. So you must have used a credit card for your deposit to enjoy the benefits of this feature.
⇒ If preferred, you can disable the Auto Recharge feature by going to the "Configure" page and untick the box for the option/s.
⇒ All Auto Recharge transactions can be seen in the financial transaction page.