The best thing about TTV is we made it easier for Employers to rate submitted tasks. We know that rating tasks can be difficult especially for campaigns that have lots of positions. But with TTV's Tasks Rating, you have the option to choose from the following:
Admin Rate
Admin Review & Employer Rate
Employer Rate Only
You will see these Tasks Rating Options at the bottom of the page when you are creating your campaign.

Apart from these tasks rating options, once the Workers submit their tasks, these will undergo system verification before landing to Employers' page.
System verification is being verified according to the predefined answer/s and/or captcha that the Employers have set during the campaign submission.

The system will determine if the tasks match the predefined answer/s and/or captcha. A 'Failed' sign is shown if the submitted proof did not match the predefined answer/captcha whereas a 'Passed' sign indicates a match. Thus, from this verification, you can already determine who did your task correctly.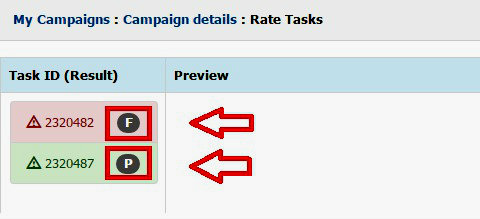 Please refer to these videos for more information regarding predefined answer/s and captcha:
     Admin Rate
With this task rating option, the admin personnel do the review and rating of all submitted proofs. Employers should put clear instructions in the Admin Instructions box as to how proofs should be rated. With incomplete lists of instructions, this option cannot be allowed. Sample instruction can be listed as this: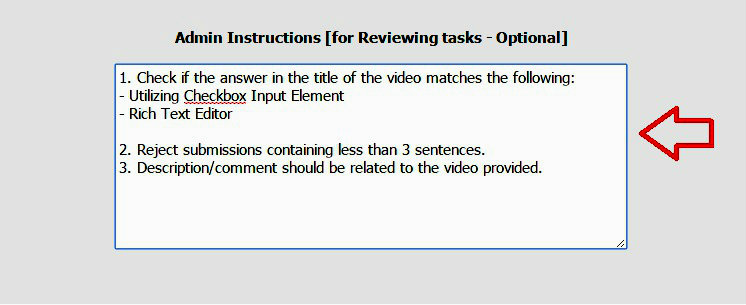 Once the proofs are rated by the admin, they will be shown in the Employers' campaign page. You can view submitted proofs in two ways, by clicking 'View1' or also known as the 'Rate Task View1' and 'View2' or 'Mass Rate View2' in the campaign page. In 'View1', you can individually preview the details of the proofs submitted by each Worker by clicking the Task ID.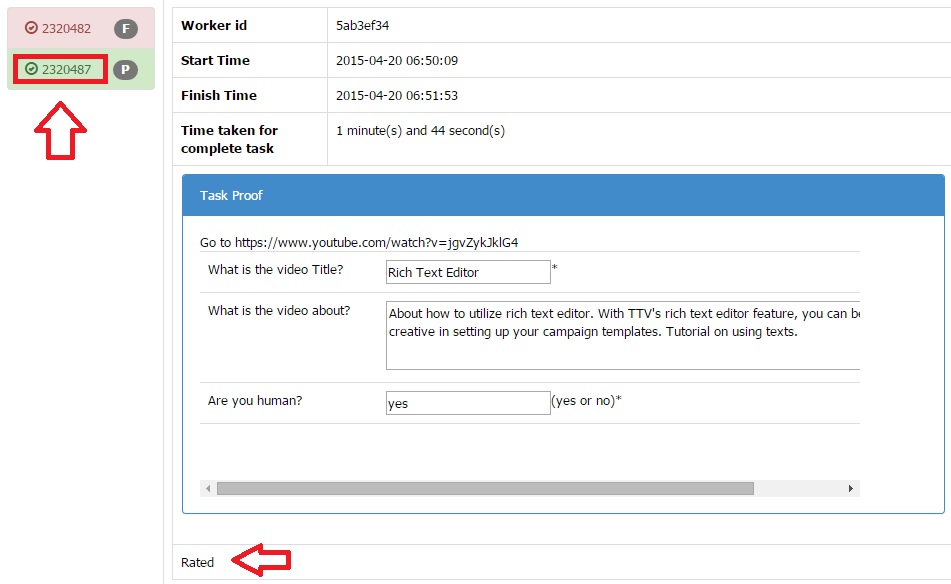 Viewing submitted proofs in 'View2' or 'Mass Rate View2', you can see all details of the proofs in mass view.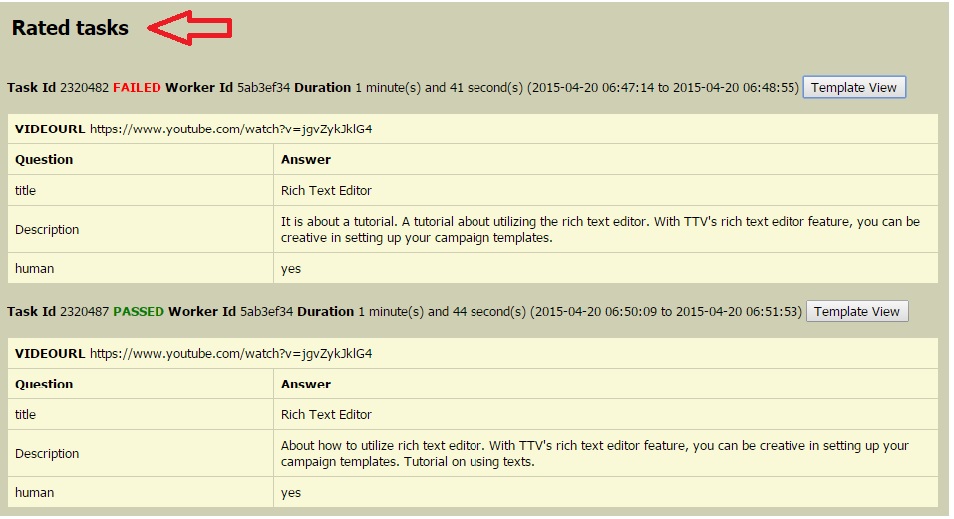 Choosing the Admin Rate Task Option, Employers no longer have to worry about rating. This option is best for Employers who have less time in handling their campaigns.
      Admin Review & Employer Rate
Selecting this task rate option allows Employers to rate submitted proofs. But before the proofs land on the Employers' campaign page, they will undergo admin review first and only valid proofs will be sent to the Employer. You may still review each proof and decide if you are going to approve or reject it. Choose whether you want to rate the tasks using the 'Rate Task View1' or 'Mass Rate View2'.
Let us say you wanted to rate tasks individually, this can be ideally done by choosing the 'Rate Task View1'. Click each Task ID seen on the left side of the page to view the details of the submitted proofs. If the answer given is acceptable or unacceptable, click the 'Thumbs up Rate Task' button or the 'Thumbs down Decline' button. A message will pop up indicating that you have successfully rated the task.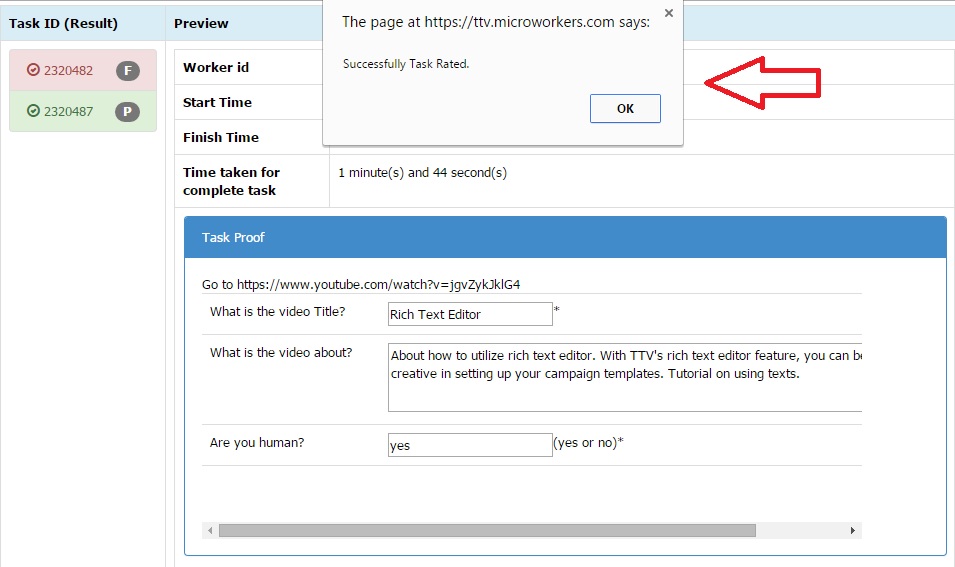 Employer Rate Only
Should you wish to rate all submitted tasks without the admin review, this is the best task rating option for you.
In this rating option, proofs will still undergo system verification. Thus, a 'Passed' or 'Failed' sign is indicated in each proof. Proofs with 'Failed' sign can also be approved upon checking the given proofs. It may be that the Worker failed to answer the given captcha (in the form of a question) correctly that is why the system detected the answer as 'Failed'.
Since we used the 'Rate Task View1' in the Admin Review & Employer Rate task option, in this sample, we are going to choose the 'Mass Rate View2' so you will have an idea on how to rate tasks utilizing this.
 'Mass Rate View2' allows you to rate tasks in mass view. This is ideal for massive rating if you find all the proofs to be correct or incorrect. If you tick the box for 'Select/Un-select All', all proofs will be marked as checked. Then you can rate them all as 'Satisfied' or 'Not-Satisfied'. Please always be fair when rating.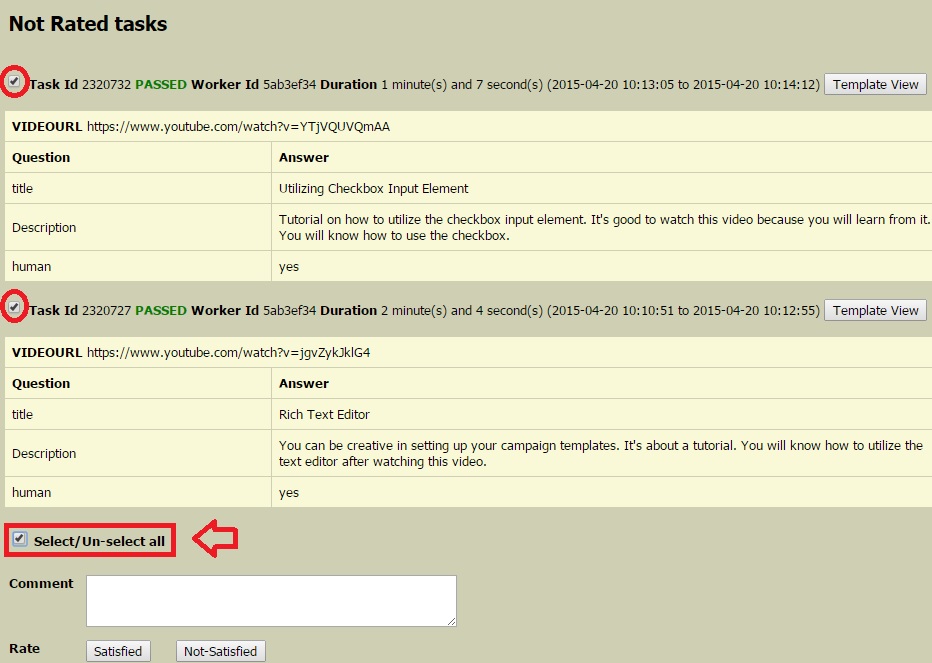 Once a 'Satisfied' or 'Not-Satisfied' rating is selected, a pop up message will appear asking you if you are sure about your rating.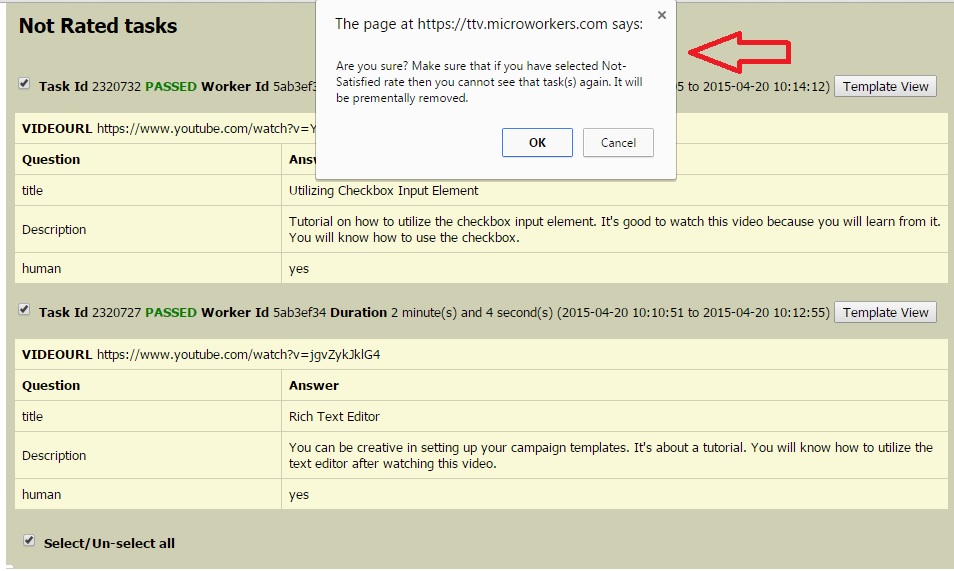 Now you are done! All proofs are now seen as rated.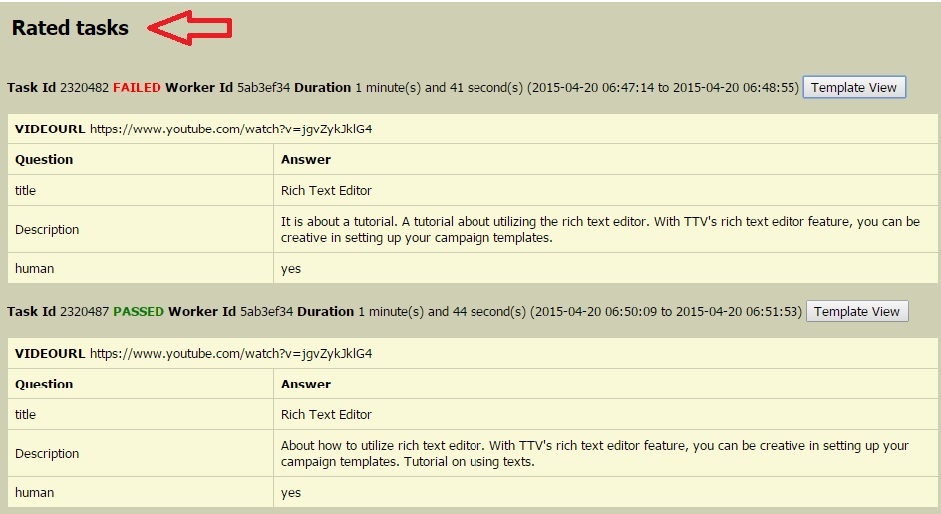 If you are encountering any problems in rating or have some queries, please Contact us and we will address your concern timely and accordingly.