Every employer on the web needs help on temporary or ongoing jobs for their projects. However finding the right set of people to complete your tasks and make your projects successful is not easy.
Skilled freelancers are of high worth in today's outsourcing market. But Microworkers made it easy for Employers to find the very Workers they need. Hiregroup (HG) is the place to come when you wish to run your campaigns only to selected Workers, or when you only need a few tasks that what's allowed under the Basic Campaigns. You can choose from the long list of pre-determined groups already available in the system like the ALL Canada Workers, Best Rated Countries, English Speaking Countries, Top India Workers, Top USA Workers, USA California (CA), and so much more. But of course, you create your own group and just put the Workers of your choosing. That way, you are only making your campaigns available to the Workers whom you trust can perform your task best.
By utilizing its many great features, Hiregroup can help achieve your project goals by handpicking the right people and following these useful tips:
Create Specific Group of Users
This is one of the main ways to utilize Hiregroup. Depending on your need, you can create as many groups as you'd like. A quick way to do this is to utilize the "Best Workers" function found at the right of the group list.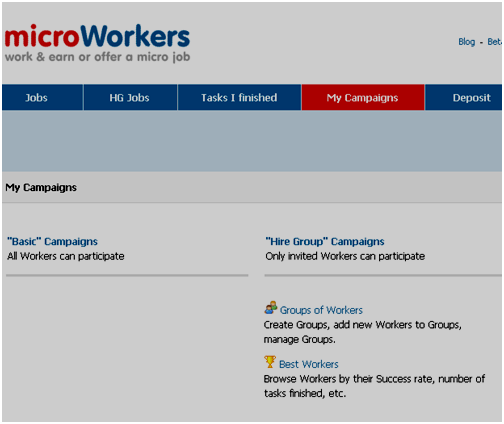 This takes you to a page where you can filter Workers by country, as well as by other criteria like most tasks done, high success rate, best performing in Facebook, Twitter, Youtube, blogging, and so on. If you want more detailed information before deciding to put a Worker in a group, just click on the display name to bring up his or her profile page.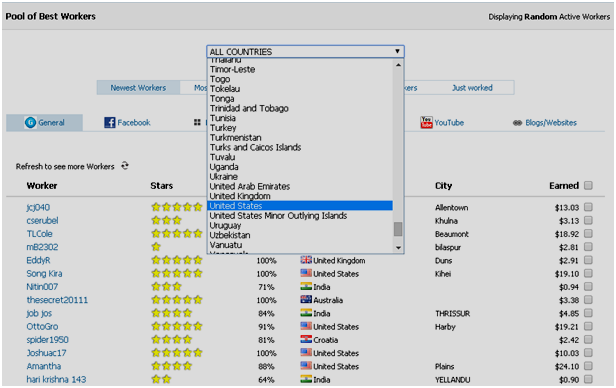 You may label each group according to your specific task requirements (Best Writers, My Youtube Workers, USA Sign ups, etc..) then as you launch your new jobs, simply target your created groups.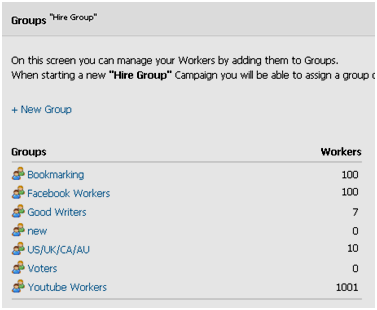 Open more positions to your Best Workers
One great thing about HG is that you can open as many positions to each Worker. This way you could have dozens, hundreds, or as many as thousands of tasks completed (for example: tagging images) but could hire only 5 best Workers you believe are only capable of meeting your requirements. However you can still assign one task per Worker if you want.

Pay Reasonably, Award Bonus when you can
Assigned cost per task under Hiregroup should be the same with that of Basic campaigns. When running your campaign to a USA group, ensure that the cost placed is equivalent to USA price under the Basic section.
Reasonable amount must be assigned for more complex tasks.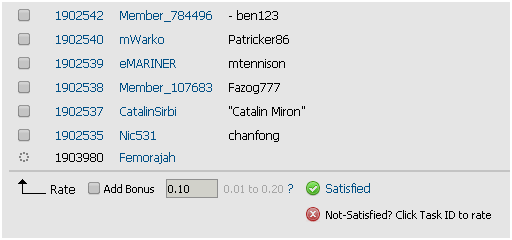 One way to attract more Workers and obtain quality jobs is to offer a bonus. Bonus amount can be between 10% and 200% of the task value.  Make sure to provide clear instructions on how the bonus is availed. Workers are highly motivated with bonus.
Write clear, concise instructions
One thing to remember in listing the required steps for your campaign is to make them as brief and clear as possible. Eliminate lengthy introductions and simply write what is expected from the Workers. Unnecessary and repetitive information will confuse or mislead the Workers from the actual task. The most successful campaigns ran in Microworkers are written short and sweet.
Test, test, test
When submitting your campaigns, make sure your links are working, your Workers are granted the necessary permission for your google document, your file sharing platform, and all other external platforms used. All campaigns in Microworkers go through a review process where all data are verified. But the best way to ensure your complex campaign run as smoothly as planned is to test, test, test.
With the right Workers, your tasks are done as expected and your projects are completed successfully.