MW just launched a live testing page in order to allow Employers who are working on VCode integration to test their Vcode before running their campaigns.
Previously we made available information on how one's page can be configured in order to work with Microworkers system for Vcode checking. You may find them here:
Using VCode for Basic campaigns
_______________________________________________
On each page, one can now be able to fill in Worker ID, Campaign ID and Random Key (for HG only) to generate VCODE and validate whether VCode variables are properly inserted on their pages.

Testing VCode for Basic Campaigns:

 Testing VCode for HG Campaigns: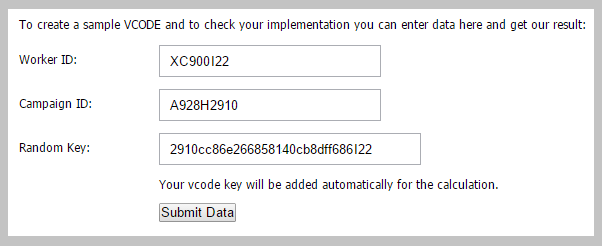 This way one can compare the generated VCODE from Microworkers page with their side and validate if it matches.
Visit our previous blogpost to read more about VCode implementation here.