Online surveys are, at present, among the most effective tools in uncovering answers to specific, important questions covering a diverse range of topics including Opinion Gathering, Market research, Consumer behavior research, Economic forecasts, Ratings for TV/Radio audiences, Sociological research, Psychological studies, Product acceptance anticipation, and Ad Response among many others.
___________________________________________________
Not only they have been proven to be more convenient, flexible, quick and affordable way to obtain data from a large number of participants, the questions can be asked in multiple formats.
Running survey projects in Microworkers have been made easy for you with the various default templates available in the system, all readily modifiable to fit your specific projects requirements.
To customize a Microworkers Template, simply use the "Clone" feature available from across the Template from the campaigns list: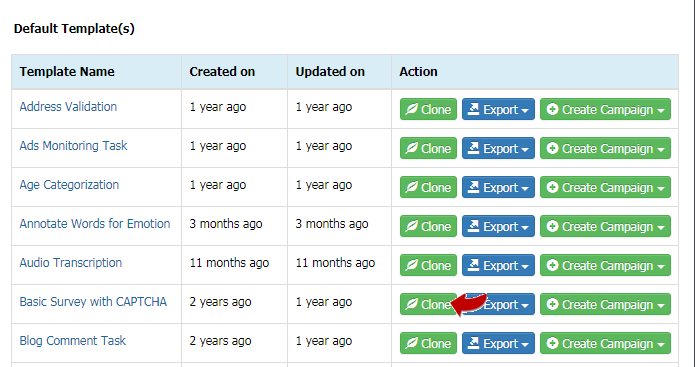 Or you may open the individual campaign page and if interested to use it, you  may click the option for "Create Campaign", or "Clone" it when changes need to be applied.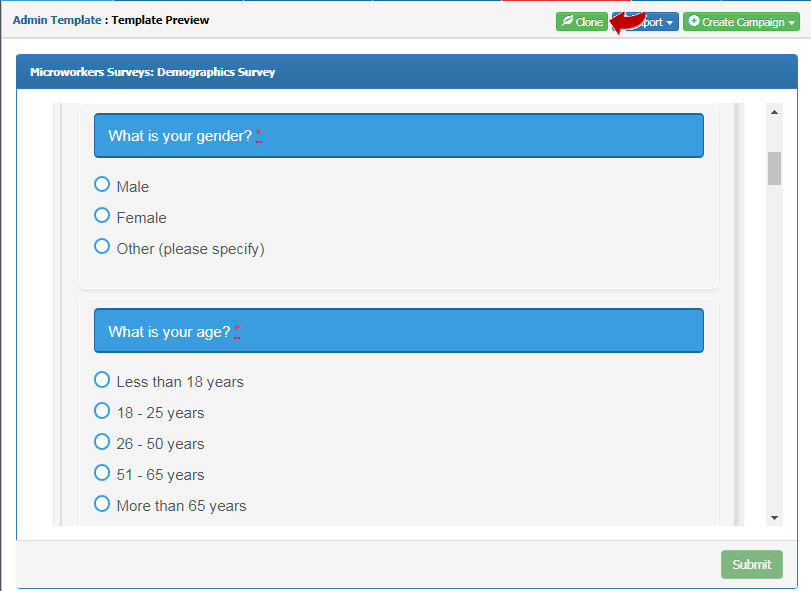 ___________________________________________________
Below are some of the available Survey Templates for you to explore and use in your survey-related projects:
Ad Response
Basic Survey with Captcha
Sentiment Survey/Emotional Reponses 1
Sentiment Survey/Emotional Reponses 2
Sentiment Survey/Emotional Reponses 3
Sentiment Survey/Emotional Reponses 4
Sentiment Survey/Emotional Reponses 5
Sentiment Survey/Emotional Reponses 6
Events, Relationships
Opinion Gathering
Product Agreeability/Response 1
Product Agreeability/Response 2
Childrens Behavior
Online Work
Consumer Satisfaction (Product) 1
Consumer Satisfaction (Product) 2
Consumer Satisfaction (Service)
Platform Evaluation 1
Platform Evaluation 2
Restaurant Service
Technical Documentation
Demographics 1
Demographics 2
Demographics 3
Demographics 4
Phone call
Others
Others
☞ When intending to use External Surveys (example, Qualtrics, etc), you may use the following template:
Survey Template using External Links
______________________________________________
Tips/Reminders in setting up your Survey Projects:
☞ In order to obtain the most accurate data, draft your questions so you may be able to come up with a strategic and well-structured survey.
☞ Identify the main goal of your survey and focus your questions on such. With this consider your survey audience when crafting your questions.
☞ Keep your survey as short as possible and keep your focus.
☞ Keep your questions simple, and your options clear. Make sure every question is necessary, and do away with those that are not.
______________________________________________
Related Posts
External Template
External Template 2
TTV
TTV2