Great news for our Native German Speaking MicroWorkers! An interesting job opportunity awaits you! You will earn a big compensation of up to $30.00 per completed task! So what are you waiting for? Read on to know more about this awesome job!
The goal of this project is to collect German's voice for Audio Recognition for AI (Artificial Intelligence) use. The job requires a Voice Recording task using your mobile phone by means of the Application that will be given in the campaign instruction. You will be asked to read sentences and record them clearly.
To qualify for this job, you need to follow the following:
⇒ Must be native German speaker with a native accent
⇒ "Oberdeutsche Dialekte" or "Niederdeutsche Sprache" accent only (don't use the "middle region" accent)
⇒ Pass the Qualification Test
One has to pass the Qualification Test first before you can perform the actual job. The Qualification test requires you to read and record 20 sentences clearly in a totally quiet environment. The sentences are provided in the App. Sample audio recordings are provided in the campaign for your recording reference.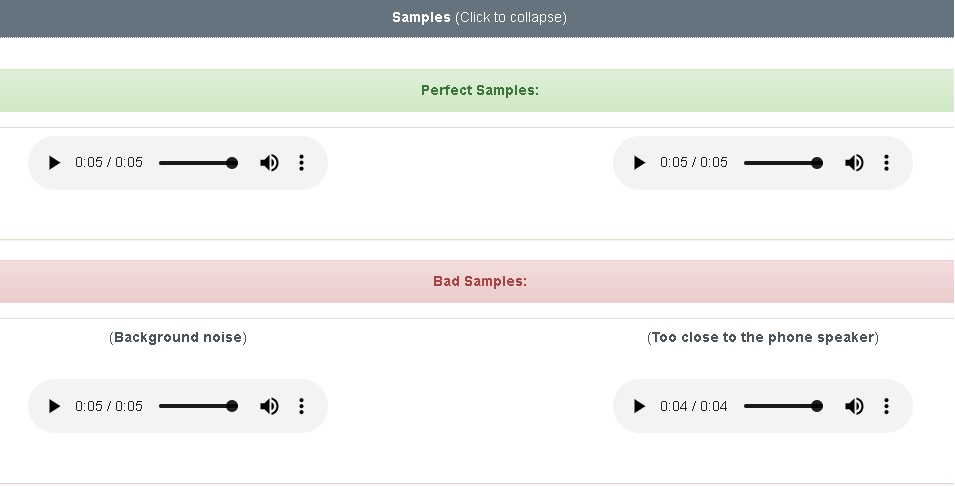 Once you pass the Qualification test, you will get $0.20 and you will automatically be included in the exclusive group where you will be given access to the actual job. 
The actual job will require you to continue reading/recording the remaining 430 sentences. No background or other people's noise should be heard while recording. If there is an error in reading or have experienced sudden noise while doing the task, you may record the sentences again. No changes in the sentences should be made when reading.
So if you are mainly from Germany and Austria, you can take the Qualification test and be part of this awesome earning opportunity! However, if you are a native German speaker but happens to be from Switzerland, Belgium, Liechtenstein, Luxembourg or out of the country and wishes to take on the job, you can simply contact us and we will give you access to perform the test.
Good luck and enjoy the huge reward! 😉